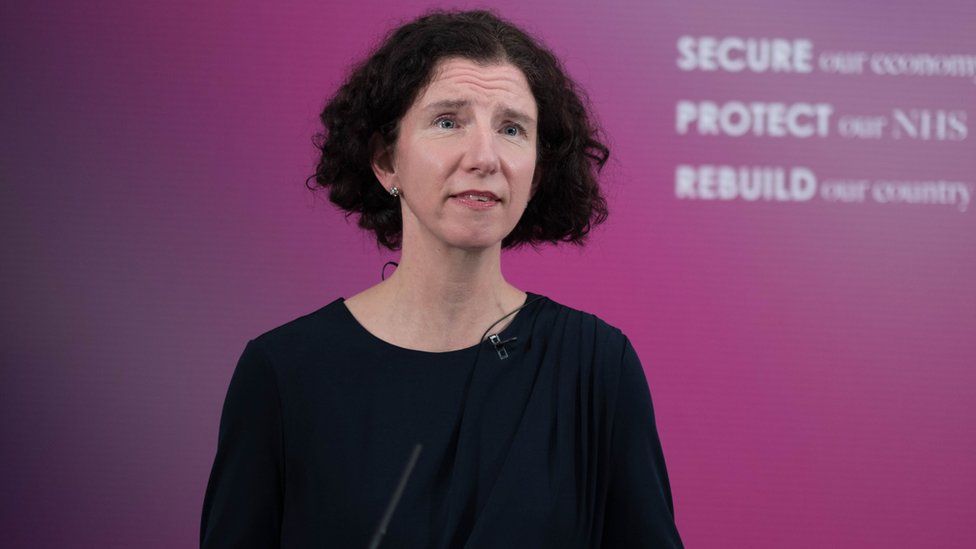 Sir Keir Starmer has sacked his shadow chancellor in a shake-up of his team after poor election results in England.
Anneliese Dodds will now become the Labour Party's chair – replacing deputy leader Angela Rayner, who Sir Keir fired from the role on Saturday.
Ms Rayner will instead replace Rachel Reeves in shadowing Michael Gove at the Cabinet Office, as Ms Reeves is promoted to the shadow chancellor role.
The Labour leader is facing criticism after losing control of eight councils.
In Sir Keir's first test at the ballot box since becoming leader last April, his party also failed to keep hold of the Westminster seat in Hartlepool in Thursday's elections – which had voted Labour since its formation in 1974, but went to the Tories.
But the party faired better in mayoral races, securing the mayoralties of London, Liverpool, Greater Manchester, West Yorkshire and the West of England.
A reshuffle had been expected from Sir Keir's office throughout Sunday, but news of the changes only broke in the late evening.
The leader was accused of making Ms Rayner a "scapegoat" for the election results after her sacking was confirmed, but Sir Keir has insisted he takes "full responsibility" for the party's performance.
Labour MP for Birmingham Ladywood, Shabana Mahmood, will take on Ms Rayner's other former role as campaign coordinator.
But Ms Rayner remains deputy leader of the party as it is an elected post voted for by members – and will be given additional duties to focus on future of work and "levelling up".
Other movements in the reshuffle include:
Thangham Debonnaire changing from her housing brief to become the new shadow leader of House – replacing Valerie Vaz who has been in the role since 2016
Lucy Powell replacing her as shadow housing secretary
Wes Streeting taking on a newly formed role as the shadow minister tackling child poverty
Alan Campbell will replace Nick Brown as chief whip having served as the deputy chief whip since 2010