Mercedes pitted Lewis Hamilton for second time before he chased down Max Verstappen; "I was really conflicted," admitted Hamilton. "Do I come in or I do ignore the call and stay out?"; Hamilton extends his title lead to 14 points
By Matt Morlidge
Last Updated: 09/05/21 4:32pm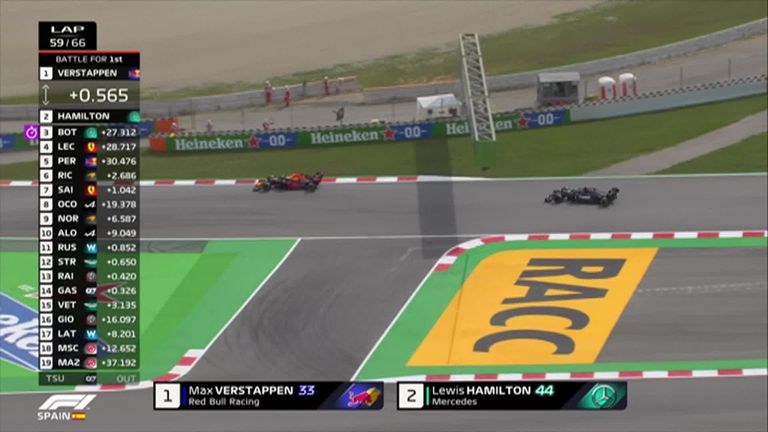 Lewis Hamilton has paid tribute to Mercedes' strategy "gamble" at the Spanish GP after chasing down Max Verstappen for victory – even though he admitted he was "conflicted" on whether to ignore the team's call.
Hamilton was trailing just behind Verstappen for most of Sunday's race despite appearing to have a faster car, but Mercedes made a critical decision with on Lap 43 of 66 by pitting the Englishman for a second time.
The stop dropped Hamilton down to third and some 23 seconds behind Verstappen, but on new tyres the F1 world champion charged back towards the Red Bull before a comfortable overtake in the closing laps.
"I was just hunting," said Hamilton, who was passed by Verstappen on the opening lap. "I was so close for so long and I didn't think in doing that I was going to be able to make the tyres last – but I just managed to.
"It was a long way to come back from 20 odd seconds back but it was a good gamble, a really great strategy from the team."
Hamilton looked likely to pull off an on-track overtake just before Mercedes called him in.
"I was really conflicted," he admitted. "Do I come in or I do ignore the call and stay out?
"Obviously I did what the team asked and naturally that's because there's a great trust between us.
"Just a remarkable job by everyone in this team. What a day."
More to follow.