Sunday presidential elections in two countries where entrenched violence and corruption prevail, Ecuador and Guatemala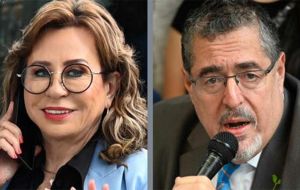 Next Sunday two Latin American countries suffering from extreme political turmoil will head to the polls in presidential elections, which hopefully can help both countries overcome situations of death, ongoing violence, and blatant corruption.
 On Aug. 9, Ecuador was rocked by the public assassination of presidential candidate Fernando Villavicencio as he was leaving a daytime rally and campaign event in the country's capital, Quito. While much remains unclear about who may be ultimately behind his murder, Villavicencio, a member of the suspended National Assembly legislature and a former investigative journalist, was known for denouncing major cases of corruption in Ecuador's energy sector. He also faced political persecution for challenging the aggressive tactics of former Ecuadorian president Rafael Correa when he was in power from 2007 to 2017. His anti-corruption stance attracted the ire of organized crime networks, and he had received threats from one of Ecuador's most prominent crime syndicates in the weeks before his killing. 
In Guatemala, the electorate is preparing for a run-off election between the top two candidates who emerged from a field that had been artificially narrowed by a seemingly systematic effort to disqualify popular candidates who were willing to publicly challenge the country's political and economic elite. In a sign of citizen disenchantment and frustration, during the first-round election on June 25, more ballots were deliberately invalidated by voters than cast in favor of any remaining candidate.  
When Bernardo Arévalo of the anti-corruption Seed Movement emerged as a surprise runner-up, Guatemala's Public Ministry (the equivalent of the attorney general) requested that his party's registration (and thus, Arévalo's candidacy) be revoked over allegations of signature irregularities in the filing paperwork that established the political party. Although Guatemala's constitutional court has since ruled in favor of the Supreme Electoral Tribunal's authority over election proceedings and upheld an electoral law that prohibits the disqualification of candidates during an active election, some legal experts contend there remains an open possibility after the election concludes that Arévalo could face a reopened legal challenge to the legitimacy of his candidacy, even if he emerges as president-elect. 
Ecuador's own elections this year were unscheduled and are the result of deep political instability that has plagued the country. Facing a second impeachment attempt in May, President Guillermo Lasso triggered a controversial muerte cruzada clause – effectively translated as "mutual destruction" – in Ecuador's Correa-era constitution that dissolved the National Assembly while imposing a six-month deadline for holding national elections in which the incumbent president would be disqualified from competing.  
Although the underlying dynamics causing turbulence in Ecuador can be contributed to multiple challenges ranging from social and economic inequalities, lingering effects of the COVID-19 crisis, and deep-seated political polarization, violence stemming from the rise of narco-traffickers and other criminal gangs has emerged as an acute threat that risks further fueling the corruption that has plagued the country. 
In Ecuador, Villavicencio was tragically not the first candidate during the current campaign season to be murdered in broad daylight. The popular mayor of the port city of Manta, Agustín Intriago, was also gunned down during a campaign event in late July. 
In Guatemala, dozens of judges, prosecutors, and anti-corruption advocates have been forced to flee, facing death threats over the past seven or more years as corrupt political elites sought to erode hard-fought independence of the judiciary and dismantle the United Nations-backed International Commission against Impunity in Guatemala (CICIG). 
Fighting for the truth, against impunity, is a dangerous business and is compounded when entrenched political elites become tied up with criminal actors experienced in violence.  
Despite this, the upcoming elections in Guatemala and Ecuador still represent a vital opportunity for citizens to make their voices heard. Political candidates and other honest actors willing to challenge entrenched corruption will need all the support citizens can muster to preserve democratic institutions and shine a light on corrupt actors who prefer to continue on with their dirty work in the dark.   
In Ecuador, a thorough and transparent investigation into all parties involved in the assassinations of political figures must take place to demonstrate that impunity for violent attacks on the country's democracy will not be tolerated. The international community must also continue to closely monitor and express support for the integrity of the elections in both countries. Otherwise, corruption will continue to take hold and the democratic backsliding gripping the Americas will only worsen.