Last October, a plan to ban South Korea drama in the Philippines made headlines in the mainstream news and social media. Fans and overall Hallyu enthusiasts showed their frustration with the comments of Senator Jinggoy Estrada, who proposed to halt the showing of "Korean novelas" to support local Filipino artists who were hit by the pandemic. This was resolved with Jinggoy clarifying that he did not plan to pursue the ban.
However, the senator's comments received hundreds of backlash and sentiments from the Filipino community, bringing up that a ban is not a solution to the problem of local artists not getting much support. Instead, they said lawmakers should focus on improving the quality of local shows.
How can this be done now that we are transitioning to a more digital world? This was the hottest topic during the third day of Philippine Blockchain Week 2022.
Sharing with you what took place on the 3rd day of Philippine Blockchain Week. All fun & games and learnings, of course! We want to thank everyone who spent their times with us today! pic.twitter.com/SJjjvZMJqN

— Philippine Blockchain week 🇵🇭 (@philblockchain) December 2, 2022
Creating your superheroes: Marvel, magic, and NFTs
Filipinos love entertainment, whether theater plays, movies, or their favorite superhero series. One of the highly anticipated blockbusters that the locals love is the magic of the Marvel Universe. Anthony Francisco, a former senior visual development designer in the Marvel Studios, saw this level of support and enthusiasm as he spoke at the "Marvel, Magic, and NFTs" stage during the third day of the Philippine Blockchain Week.
I had a wonderful crowd !! Thank you for all the love @philblockchain https://t.co/sgKKD5331u

— Anthony Francisco (@Art_AF_) December 1, 2022
"My inspirations are 80% African aesthetic, 10% Filipino, 5% samurai," the designer revealed. "Definitely, when I'm designing these characters, I have movement in mind," he added.
Francisco explained the process and how he does his designs for Marvel, which mixes cultural and personal inspirations—even stating that his son and the famous zombie series "The Walking Dead" was the model of his designs for baby Groot.
"The Walking Dead always comes out, and it's kind of funny because I work watching Walking Dead," Francisco said.
"The great thing about Marvel is I get to design and get to own my character. So I pretty much own Baby Groot," he noted. "And Baby Groot is based on my son, and I get quite emotional…I need the world to know that he is a little Filipino boy."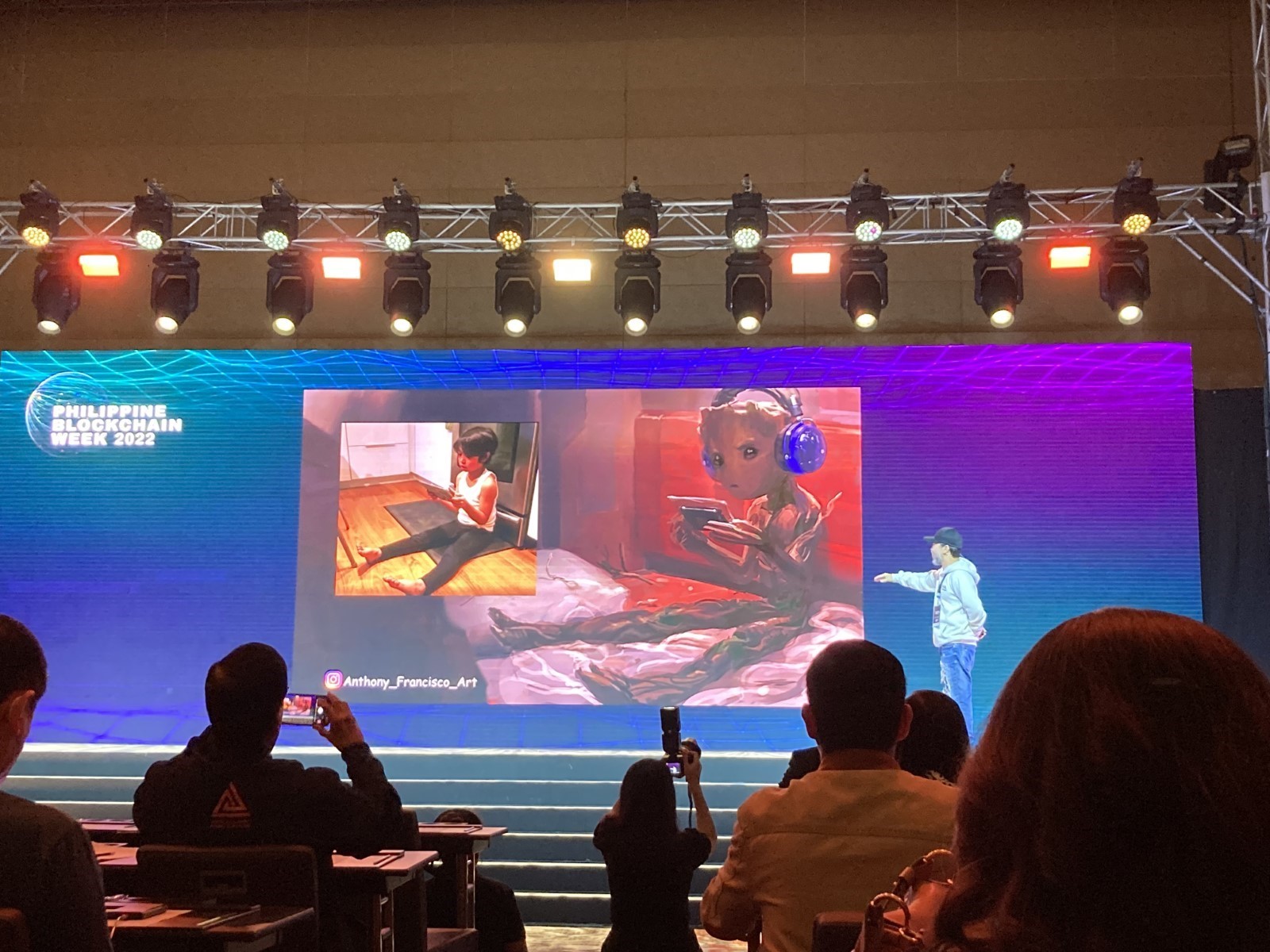 What to learn about content creation?
Social media is one of the platforms where the entertainment industry promotes content like videos and vlogs for the world to see. It has also bridged ordinary citizens and celebrities to create a space to document their lives that the mainstream media couldn't do.
A panel in the creators economy with Hanis Harmiles, founder of NFT Queen Asia; Agon Hare, YouTuber, musician, vlogger, and the co-founder of Project Nightfall; Franco Dubini, filmmaker and founder of Francollection; and Yassi Pressman, actress, model, singer-dancer, and entrepreneur, discussed what a creator economy is—its current state, how it works, and the importance of social media in the space.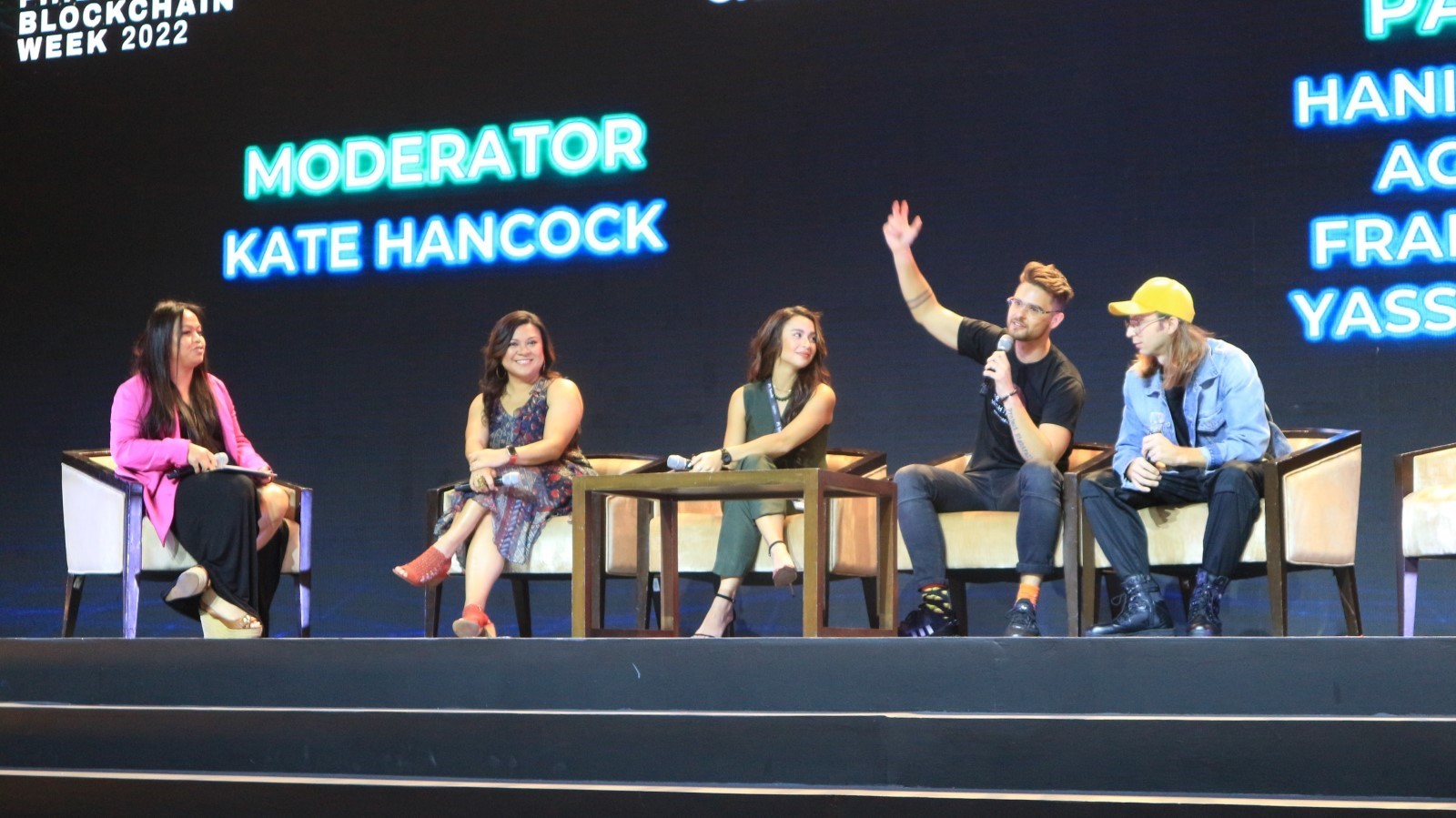 Moderator Kate Hancock started the discussion by asking, "What is a creators economy?"
Harmiles answered that in web 2, it's an economy that generates revenue via a tip-by-tip system. Whereas in web 3, content creators create the content where they are the user and investor.
"[In web 3, content creators] can monitor how they can connect with their audience immediately," Harmiles said.
Hancock did a follow-up question asking if the creators economy works for everyone. Hare answered that in these times, "everyone can be a creator."
"It's very visible that the spotlight is bringing more and more people, and so creators economy is just another new economy that's very blossoming, very powerful, and future-proof because it's new. It's available for everyone who is willing to take advantage of it," he explained.
Dubini added that "the people who are bringing their creativity to the people are the ones that are building the real creators economy."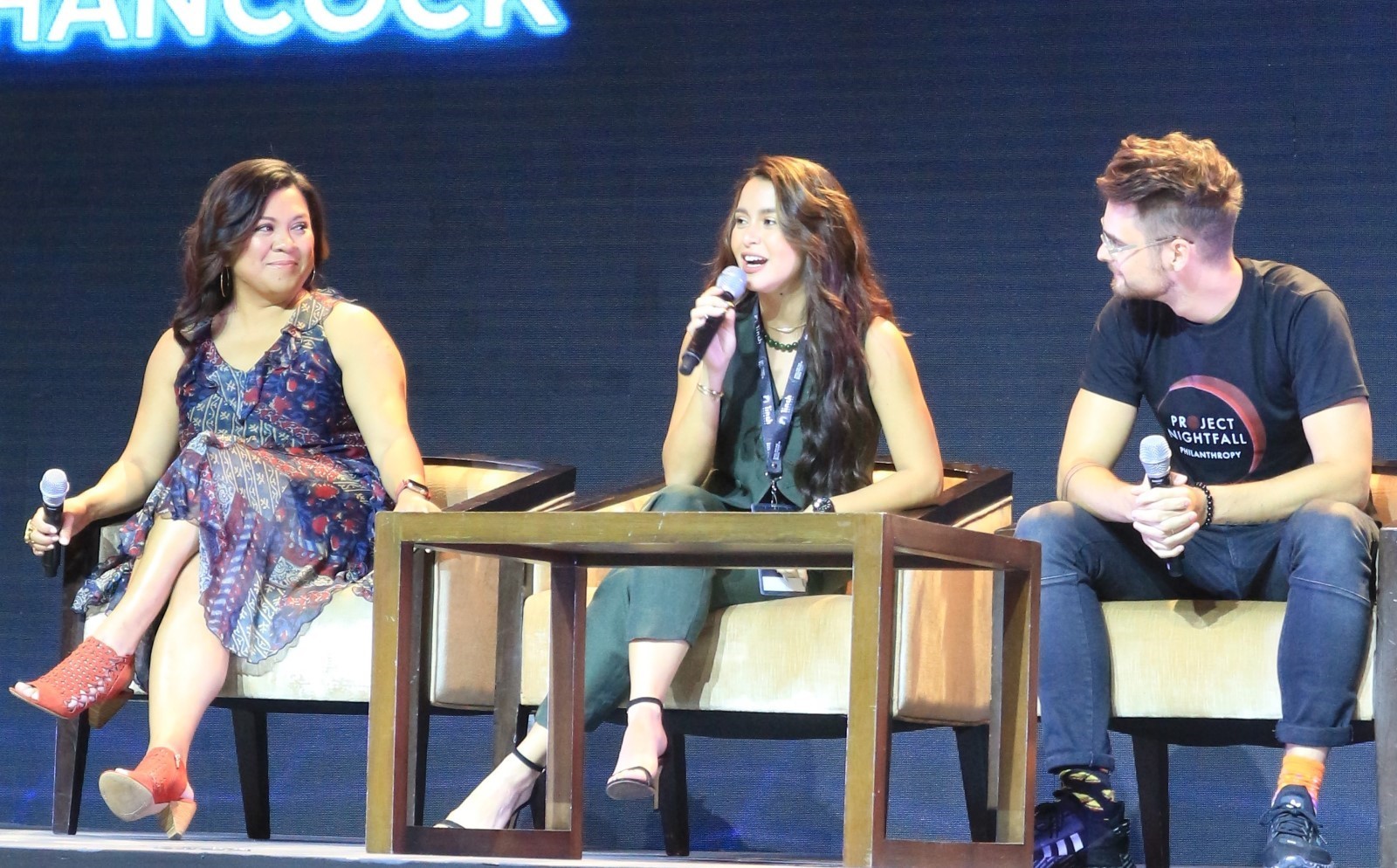 "[Those] who have businesses and want to market it, we see a growth of people trying to learn how to do that [marketing] online, and they benefit from it. They do promotions, they collaborate, and they help with that economy, and everybody becomes a creator," Pressman noted.
The panel also tackled paying bots online to create a big following, especially for public figures and celebrities, before jumping into the effect of blockchain and web 3 for content creation.
"There is a huge opportunity to use web 2, web 3, and the future of the metaverse and blockchain. There's so much power and potential in these," Hare said. "Their potential on being transparent in the world of charity is something that has never been given to us before…That is why I'm so passionate about blockchain," he pointed out.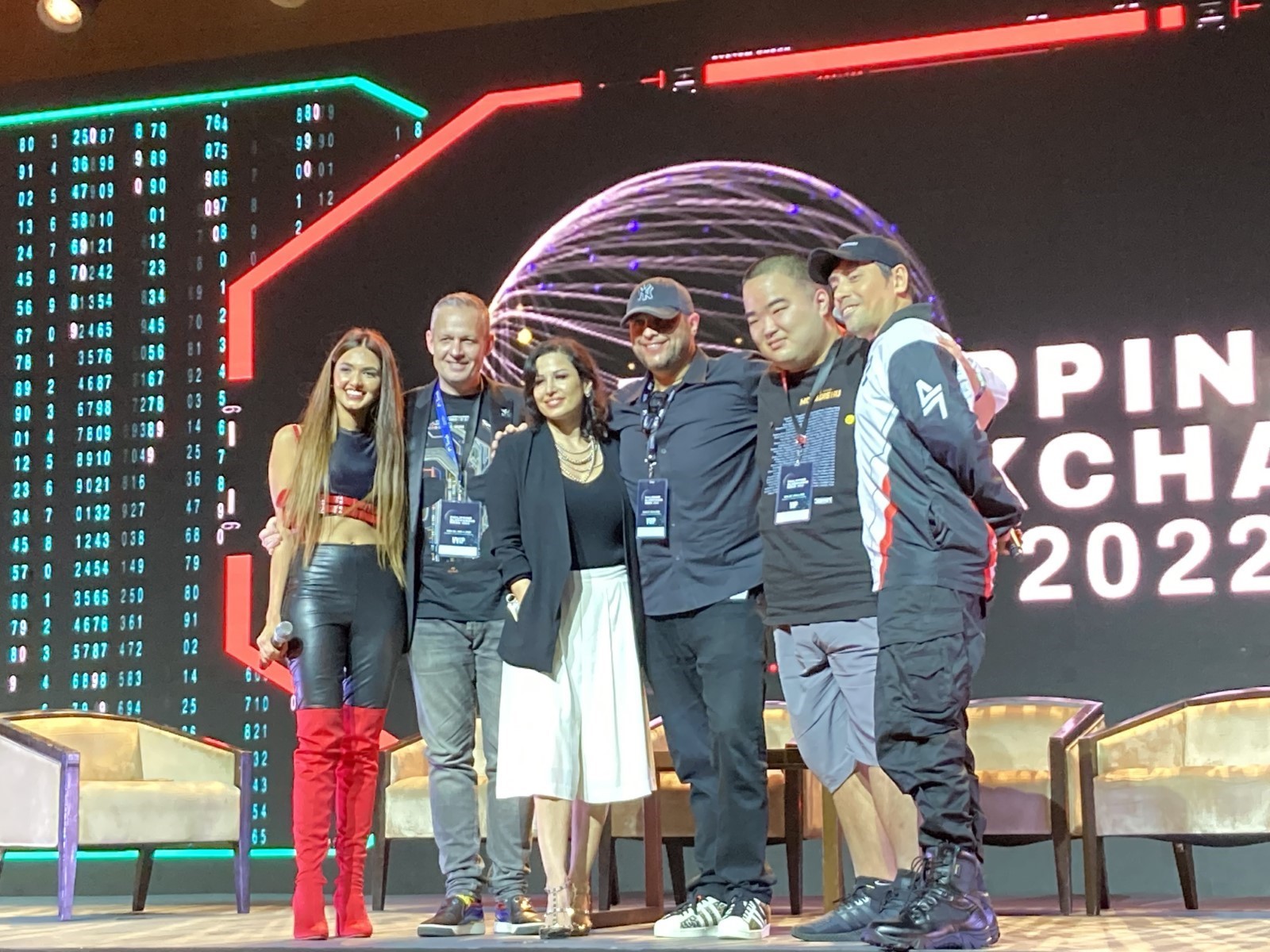 Web 3 revolutionizing the entertainment industry
The lively discussion on the creators economy was followed by another talk about web3 and why it matters in the entertainment industry panel, moderated by Project Nightfall's co-founder Sonya Mulkeet, who is also the event host.
Right from the start of the discussion, Mulkeet asked the panel what benefits web 3 has in store for entertainment. Aalia Lanius, president of UNSUGARCOATED, said that they are always looking for ways to mine new opportunities. Film actor and screenplay writer Mr. Speaks jumps in, saying that the industry should push show business "to another level beyond imagination."
While according to David Uslan, co-founder of IP3 and Batfilm Productions producer, the viewers can benefit from web 3 because some of its IP would create the next franchise, movies, tv series, and games.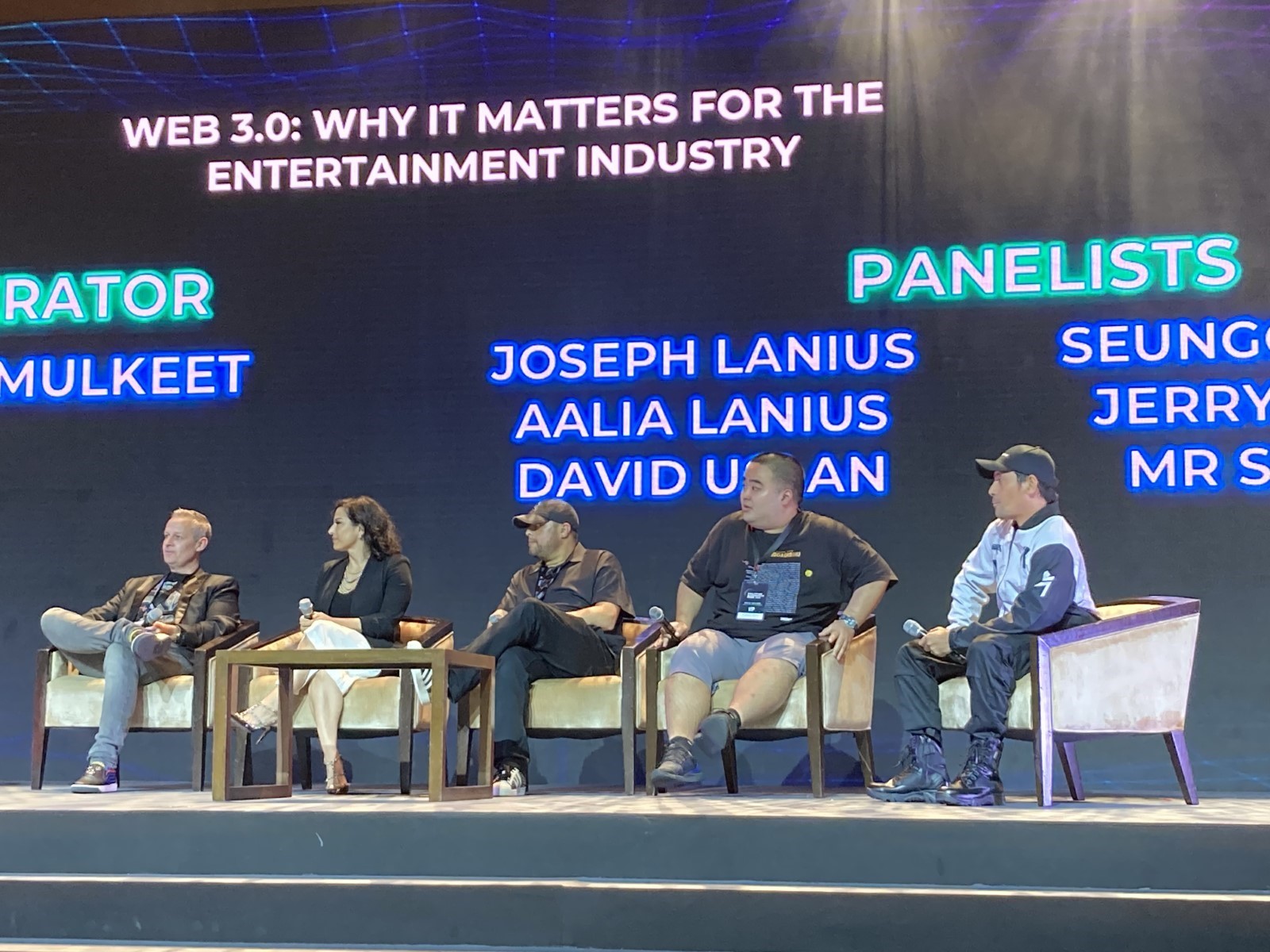 "This world that we're all playing in now is not going away anytime soon. This is where the great IP will be mined from here on now," Uslan remarked.
As for Seung Oh Jung, the VFX coordinator for Dexter Studio, everybody can enjoy different content regardless of the language barrier thanks to the help of the tech. Right after, executive producer and Ent. Attorney Joseph Lanius tackled the challenges of web 3 in the industry.
"I would say that there are definitely a lot of challenges right now, especially in Hollywood. There are a lot of gatekeepers that know web 3 will destroy their net of income unless they adapt," he said.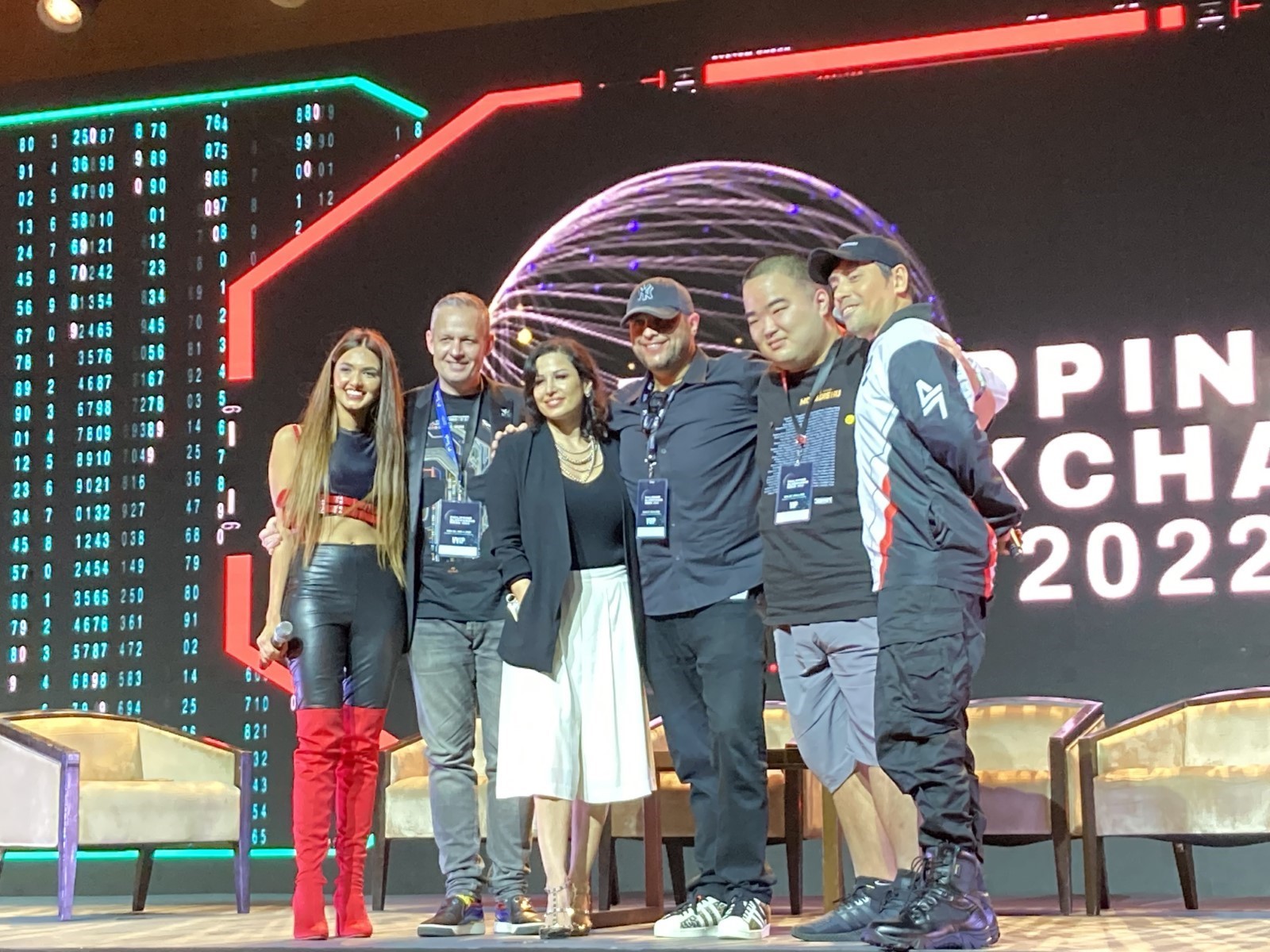 "I do think people will overcome [the challenges] because of the young generation that will kind of push that out. They are more adaptive and not scared of it. But I think it's still several years away," Lanius pointed out.
As for the transition of the industry into the web 3 space, Mr. Speaks said we don't need to move into the space because we're already in it.
"I don't think that there's a transitioning into it. I think it's just jumping to it. It's already here. It's inevitable. It's been happening already," he said. "In the Philippines, we're all sick and tired of old stuff, and they're [producers/showmakers] saying that's where the money is, but I say, there's more money to new stuff you don't know about."
"The Metaverse world that we're going to move into is gonna provide more opportunities than most people can imagine, and that covers a thousand different ways," David stated.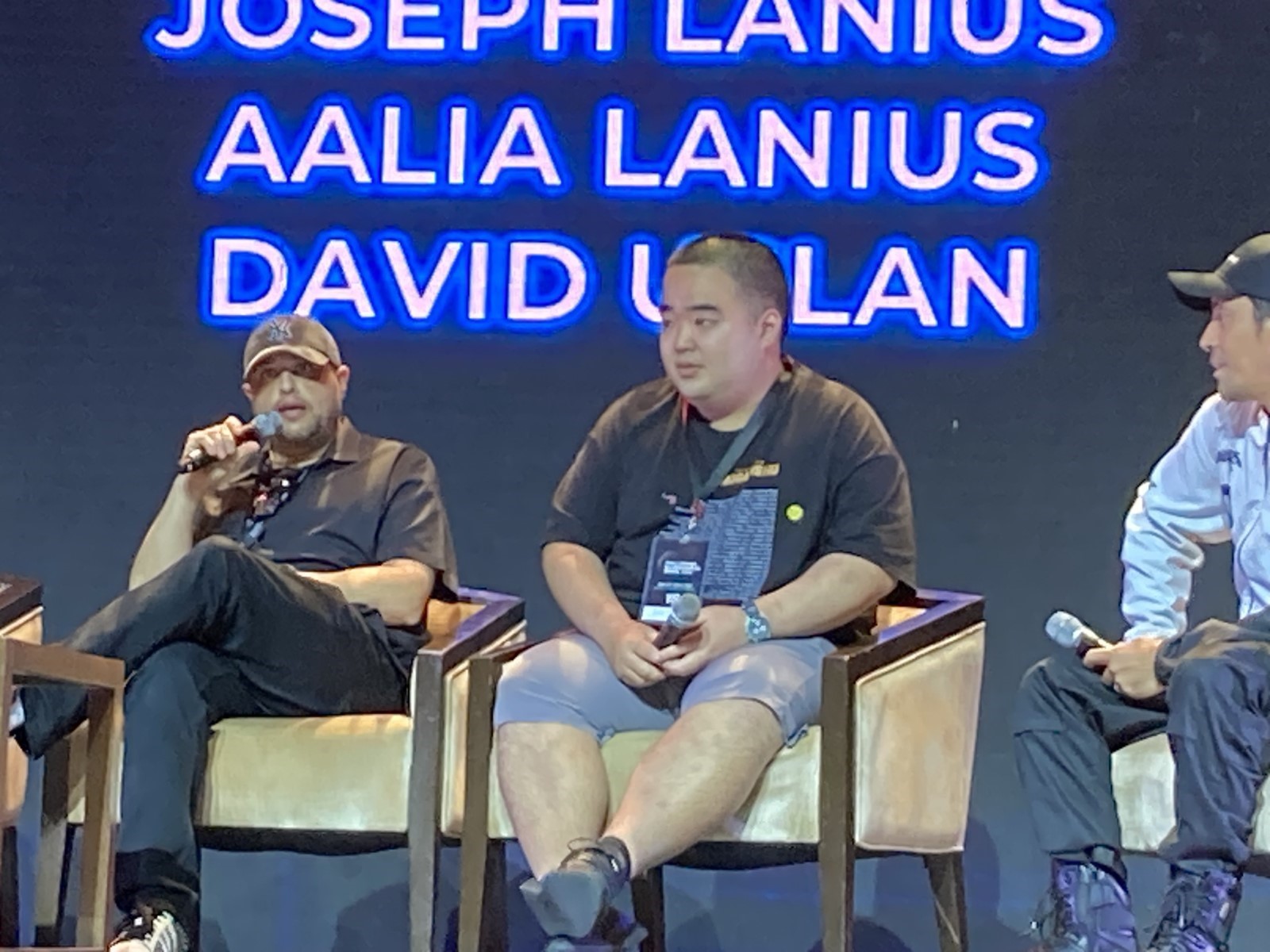 CoinGeek Bitcade Manila: Games and more
Speaking of entertainment, CoinGeek Bitcade was present during the three-day-long conferences promoting the leaderboard games by Haste Arcade and the power of BSV blockchain.
#PhilippineBlockchainWeek Giveaway!⁰⁰Reply to this tweet with a picture of you using the hashtag #CGBitcadeManila at the Bitcade booth to get FREE #BSV sent to your @handcashapp wallet!

See you there! 🙌🙌🙌⁰⁰#Giveaway #PewPew pic.twitter.com/GjDNKYZLN5

— CoinGeek Philippines (@RealCoinGeek_PH) November 30, 2022
Many exhibitors and attendees of the Philippine Blockchain Week have enjoyed all the fun of the "Lost" and "Jump" games, and gaming enthusiasts keep returning to get their chance to be on the leaderboard. Apart from that, attendees earned some BSV by visiting the booth and taking selfies.
Today's top players on the leaderboards of @hastearcade games.

Don't forget to visit the #CGBitcadeManila booth at the #PHBlockchainWeek. Beat our top scores and win #BSV. 🎮🎮🎮#CGBitcade pic.twitter.com/Mvn7POfNyi

— CoinGeek Philippines (@RealCoinGeek_PH) November 30, 2022
Watch: The BSV Global Blockchain Convention presentation, Making it easy for creators to earn – using BSV blockchain
width="560″ height="315″ frameborder="0″ allowfullscreen="allowfullscreen">
New to Bitcoin? Check out CoinGeek's Bitcoin for Beginners section, the ultimate resource guide to learn more about Bitcoin—as originally envisioned by Satoshi Nakamoto—and blockchain.